Admin Console
The Nitro Admin Console (NAC) is the main user interface for the Nitro application. One or more sets of credentials for the NAC are issued when the Nitro cluster is provisioned. Create a Nitro support ticket requesting credentials.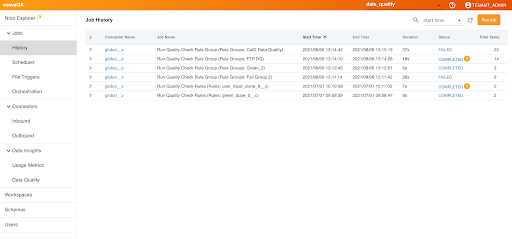 The NAC allows admins to do the following:
Access individual Nitro instances
View Job History - view the status of the current or previously executed ETL jobs
Schedule ETL jobs
Execute ETL jobs ad-hoc
View connectors, schemas and their respective metadata contents
View available storage across Nitro instances
Scheduling Jobs
Admins can automate monthly inbound and outbound Nitro jobs by scheduling jobs with a monthly, bimonthly, quarterly, or triannual frequency. Admins can select the day of the month, start month, and recurrence pattern for each job.
Jobs can only be scheduled up to the 28th day of each month.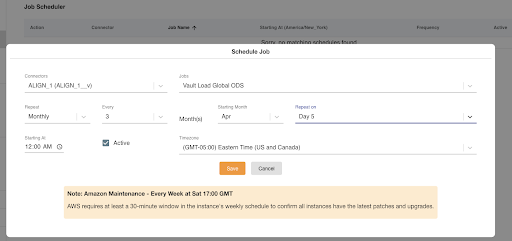 AWS Maintenance
AWS Maintenance for Nitro clusters occurs weekly at 2 am (Pacific Time) on Saturday. AWS requires at least a 30-minute window in the instance's weekly schedule to confirm all instances have the latest patches and upgrades. During the maintenance window, tasks are performed on clusters and instances. To protect the security and stability of your data, maintenance can cause instances to be unavailable.
Admins can view maintenance window information when scheduling a job from the NAC.